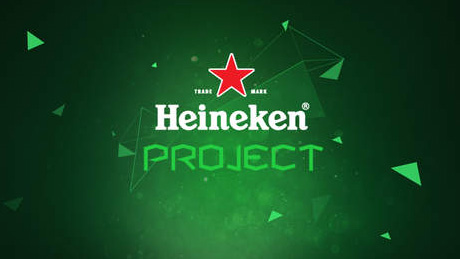 The Heineken Project is an Augmented Reality application, turning your phone into an interactive toy that reacts to a Heineken bottle or glass placed in front of the camera. Away Studios developed the 3D component of the application that included particle effects and 3D-mapped visuals overlaid onto the video feed in realtime. The project was commissioned by Heineken and required a fast turnaround and smooth, detailed animation running on a variety of mobile hardware include iOS and Android devices.
The delivery included:
Four distinctive particle effects synchronised to the movement of the bottle in 3D.
Additional interactive effects for each bottle type that responded to user touch.
Incorporation of branded Heineken visuals.
Optimisations for iOS and Android.
3D particle effects were created in Away3D and rendered in realtime using Adobe AIR on the device. The app was launched as part of the 2014 "Open your world" global ad campaign.
Production test visuals: City Bridge (press space to activate)
Application installer links: iOS Android
Heineken: http://www.heineken.com/
Read more...
Away Studios developed a collection of Away3D extensions specifically for the realtime rendering of diamond jewellery. The proof-of-concept was commissioned by well known jewellery manufacturer, and produced as part of a consultancy for the Germany-based digital agency Metrix Internet Design.
The delivery included:
Custom reflection map material for simulating internal reflections
Post-process glare filter for sparkling effects
Post-process lens flare filter for glinting effects
Test harness for experimenting with different effects setups
The additional effects methods are due to be added to the open source repo for the Away3D engine here.
Test view of one of the sample rings for the project can be seen here.
Metrix Internet Design: http://www.metrix.de/
Read more...